Home » Can society change its ways? We're going to see
Posted: May 10, 2020
Can society change its ways? We're going to see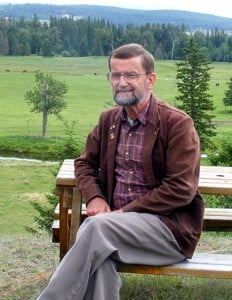 "Perceptions," by Gerry Warner
Op-ed commentary
Those who should know – and I'm not saying they don't – tell us the curve is flattening. So why am I not jumping up and down to show how happy, nay, ecstatic I am?
Because I'm not!
If Provincial Health Officer Dr. Bonnie Henry says we have reason to be happy, who am I to argue? She is, after all, the province's newest super-hero and if she says 'St. George has slain the dragon' who am I to argue? Henry is right, of course. She's got all the numbers. But those numbers don't mean happiness to me.
All they signify to my tired brain is that the dragon may be blowing less smoke but he's going to be around for a long time yet.  And life will not go on as usual.
Quite the contrary.
Henry once famously said: "Be kind. Be calm. Be safe." She's been dubbed "The Great Communicator" by no less than the Georgia Straight newspaper in Vancouver. Her fame has grown faster than COVID-19 itself, the very virus that she's leading the fight against.
Her fame is such that she's rumoured to be in line for an Order of Canada. Legendary shoe designer John Fluevog – that's how his name is spelled; I'm not making this up – has designed a special pink pump for her and sales are being donated to the Vancouver Food Bank.
A Victoria artist paid homage to Henry by creating a special painting of her that can be downloaded on-line. T-shirts are being made in Henry's honour. She has a listing in Wikipedia. The list goes on.
But keep in mind what the elegant, public health doctor with the soothing voice said at her latest news conference May 9. There are 15 new COVID-19 infections in B.C., 2,330 residents have tested positive, two more deaths occurred in the last 24 hours for a total of 129 COVID-19 deaths in the province since the pandemic started March 11.
Even though the curve is flattening, Premier John Horgan made another thing clear at the news conference: "This is not a return to normal . . . This is a new normal."
No kidding!
So, what does the "new normal" look like?
Health Minister Adrian Dix unfurled a long list. Gatherings of two to six people will be permitted in time for the May long weekend, but the overall ban of 50 or more people remains in place. Retail stores, restaurants and libraries could re-open soon. But nightclubs, bars and casinos won't be re-opening anytime soon. Most schools won't re-open until September, but elective surgeries could resume in mid-May. Provincial parks will re-open in mid-May, but only for day use.
So, there's some significant relief in the list but as the premier said life in B.C. can't be considered as "normal."
Think about what this means for Cranbrook. With the usual silence emanating from City Hall, it's hard to tell and we have no idea when the Rec Plex will re-open and swimming resume. What about the library? Key City Theatre? Summer children programming? The Farmers' Market? The Saturday concerts in Rotary Park? Will the Cranbrook Bucks hit the ice in the fall with gatherings limited to 50 people? Perhaps an announcement from City Hall would clear the air a bit.
And what about the restaurants and bars? It could be an awfully quiet strip this summer. And what about the hospitality industry? Are the tourist information centres going to re-open? And what about the college, one of the biggest employers in town? There's a lot of questions out there and not many answers.
Still, these questions are picayune when you consider what COVID-19 has done to the world. Millions unemployed, millions more living on government pay cheques, industries collapsing, the stock market going up and down like a yo-yo, planes grounded, ships confined to port, the oil industry in chaos, tourism evaporated. The list again goes on.
To put it mildly, someone is trying to tell us something. But is anyone listening?
There's a price for conspicuous consumption and now we're going to pay it.
– Gerry Warner is a retired journalist, who once wrote a column on what he termed "the Great Correction."
---
Article Share
---