Home » A cautionary tale that could have been worse
Posted: June 19, 2022
A cautionary tale that could have been worse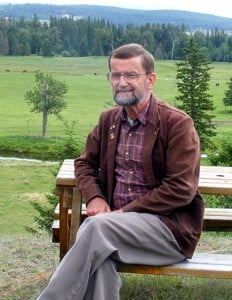 Perceptions, By Gerry Warner
Op-Ed Commentary
Thank goodness for the RCMP and the BC Ambulance Service who rescued an eager but somewhat foolish cyclist on the North Star cycling trail between Cranbrook and Kimberley last week.
With the best of intentions and the adrenaline of spring coursing through my veins, I set out on a warm afternoon to smell the flowers on my trusty, old mountain bike and to prove that this septuagenarian senior could still handle the trails.
I had gotten as far as the Wycliffe Kiosk, a viewpoint providing a dramatic view of the snow-covered Rockies, the Steeples and miles of the Rocky Mountain Trench forested meadows. Turning to leave, I noticed a narrow, dirt trail that led directly to the main paved trail and would be a test of my mountain biking skills.
That was a mistake!
I hadn't noticed that within a few feet, the trail dropped a bit and lay at an angle instead of the flat terrain I was used to. Suddenly the bike slid out from under me to the right and the next thing I knew I was flat on my face eating dirt at the edge of the drop-off watching my bike bounce and fly through the air like a guided missile until it hung up in a wire fence near the bottom of the gully.
Damn!
Could have been worse I ruefully thought to myself as I got back up on my shaky legs and determined to rescue my bike. Down I stumbled through big pines, thick Saskatoon bushes and fading sunflowers between me and my precious bike, which suffered surprisingly little damage for my foolishness.
It took nearly two sweaty hours to drag my faithful metal companion up the precipitous  slope and I began to realize my 76-year-old body was giving out on me.
Feeling faint and close to passing out I was on the point of collapse and couldn't drag my bike the last 20 feet. Fearing my angina was going to act up I dropped to my knees and crawled the last 20 feet to the top shaken and bruised. I then did what I'd never done in more than 50 years of outdoor adventuring, much of it alone.
I called 911 and asked for Search and Rescue.
To my amazement, the dispatcher initially said my situation didn't sound serious enough for Search and Rescue and suggested I use my own resources to rescue myself. Needless to say, I strongly disagreed and told her so as my voice rose an octave or two.
What do we pay taxes for? I could barely stand up, I shouted. She relented and passed me on to the RCMP and within only a matter of minutes Cst. Taylor showed up and in a very professional manner calmed me down and in less than five minutes dragged my heavy old bike – a relic of the 1980s  – to the crest of the hill.
What that burly policeman had done was a miracle as far as I was concerned.
Laugh if you will. But I thought it would take at least two strong men to drag the bike up that steep, unstable bank. Maybe a search and rescue team too. I profusely thanked him for his outstanding effort and his insight that I was more hurt than I realized.
He then called the BC Ambulance Service and in short order they checked my vital signs, got me to lie down for several minutes and gave me fresh water to drink. They also impressed on me the need to cycle more carefully and not to go off the main trail especially one with a narrow lip and a steep drop-off at the edge.
Another RCMP member then arrived and loaded my old bike – a little worse for wear – and drove me home from where my afternoon ordeal ended. All I had left to do was face the wrath of she-who-must-be-obeyed and I can tell you she was in fine form denouncing my "off-piste" adventure and my cavalier attitude to cycling alone.
Reflecting on it now, I sheepishly admit I wasn't behaving too smartly that day and the consequences could have been worse. But I also have to say it's reassuring to know that if you get into trouble in the woods around here there's trained professionals available to rescue you from your unintended stupidity.
And given the right circumstances, we can all be stupid.
Gerry Warner photo
– Gerry Warner is a retired journalist and not the best mountain biker in the world.
---
Article Share
---