Home » Celebrating 30 years of the Order of B.C.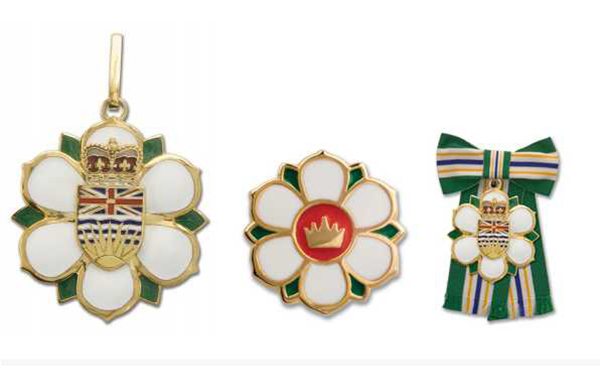 Posted: February 3, 2019
Celebrating 30 years of the Order of B.C.
This year marks the 30th anniversary of recognizing exceptional citizens with the province's highest honour, the Order of British Columbia.
British Columbians are encouraged to nominate inspiring individuals who have left a lasting legacy in their respective fields. The Order of British Columbia is one way of rewarding and recognizing those British Columbians whose achievements have contributed to a better quality of life in B.C. and beyond.
"Outstanding contributions to our province and our quality of life should be recognized and honoured," said Janet Austin, Lieutenant Governor and chancellor of the Order of British Columbia. "I encourage you to think about those people who inspire you because of their leadership and extraordinary accomplishments, and nominate them."
Nominations will be reviewed by an independent advisory council, chaired by the chief justice of British Columbia. Nominations must be submitted to the Honours and Awards Secretariat office in Victoria by March 1.
"I look forward to celebrating the exceptional and diverse accomplishments of those who will be honoured this year," said Premier John Horgan. "We are world leaders in B.C., and the Order of B.C. recognizes that standing."
Established in 1989 by statute, the Order of British Columbia recognizes those persons who have served with the greatest distinction and excelled in any field of endeavour, benefiting British Columbians and others.
It represents the highest form of recognition the province can extend to its citizens.
As well as the Order of B.C., people may nominate individuals for the province's other honour – the Medal of Good Citizenship.
The medal recognizes citizens for their exceptional long-term service and contributions to their communities without expectation of remuneration or reward. The medal reflects their generosity, service, acts of selflessness and contributions to community life.
Nominations are accepted year-round.
Eligibility 
Any resident of B.C., or former long-term resident, who has demonstrated outstanding achievement, excellence or distinction in any field of endeavour is eligible to be nominated. Fields of endeavour may include community leadership, business, labour, industry, volunteer service, professions and other occupations, arts, sports and others.
Federal, provincial and municipal elected representatives are not eligible for appointment to the order while they remain in office. A person may not be appointed to the order posthumously unless the advisory council recommends the appointment to the lieutenant governor in council before the person's death.
Nominations
Any person is welcome to nominate a deserving individual as a candidate for appointment to the order. Appointments will be made by the lieutenant governor in council on the recommendation of the advisory council, an independent council chaired by the chief justice of the Court of Appeal of British Columbia. The chancellor of the advisory council is the lieutenant governor of B.C.
e-KNOW
---
Article Share
---