Home » Castle mine project headed for federal EA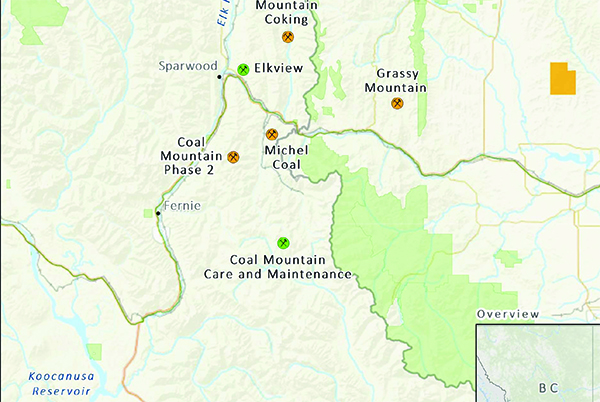 Posted: August 27, 2020
Castle mine project headed for federal EA
Conservationists are heralding the August 19 decision by Canada's Minister of Environment and Climate Change Jonathan Wilkinson to require Teck Coal to undergo a federal environmental assessment of the Castle coal mine expansion project.
"We thank Minister Wilkinson for making the right decision to order a federal assessment for the Castle coal mine," said Wildsight's said Lars Sander-Green. "The environmental dangers of this massive mine must be looked at very carefully and we'll do everything we can to make sure the federal assessment does exactly that."
"Castle would be the largest coal mine in Canada by production, sending hundreds of millions of tonnes of coal overseas until 2060," said Montana Burgess of the West Kootenay Ecosociety. "It only makes sense that such a major project gets the highest level of environmental assessment in Canada."
Teck and the mining industry in general are disappointed in the minister's decision.
"This is an unfortunate decision, as the Castle Project has already been proceeding through a rigorous provincial environmental review process," said Norman Fraser, Lead Indigenous Initiatives with Teck Resources Limited.
"We will work with the BC Environmental Assessment Office and the Impact Assessment Agency of Canada to ensure a coordinated review and seek to avoid duplication. We are hopeful that the Impact Assessment Agency of Canada will focus on a timely assessment that is fair and efficient."
"We are very disheartened by the federal government's decision on the Castle project given the expansion fell well below the threshold to being subject to the Impact Assessment Act (IAA)," said Pierre Gratton, president and CEO of the Mining Association of Canada. "This decision certainly has the potential to lead to longer timelines at a time of unprecedented global economic uncertainty."
In his report, Hon. Wilkinson stated he considered the potential for the project to cause adverse effects within federal jurisdiction, adverse direct or incidental effects, public concerns related to these effects, as well as adverse impacts on the Aboriginal and Treaty rights of the Indigenous Peoples of Canada. He also considered the analysis of the Impact Assessment Agency of Canada.
The Minister has reached the decision that the designation of the project is warranted for the following reasons:
The area of mining operations for the project would be below the 50% threshold, but at 27,400 tonnes per day, well above the total coal production capacity threshold of 5,000 tonnes per day described in Item 19(a) of the Physical Activities Regulations;
The project may cause adverse direct and cumulative effects to areas of federal jurisdiction, including to transboundary environments (in particular to fish and fish habitat including, water quality, species at risk, and Indigenous peoples) that may not be mitigated through project design or the application of standard mitigation measures;
The concerns expressed by the requesters, Indigenous groups, federal authorities, other jurisdictions, members of the public, and those that are known to the Agency that relate to adverse effects within federal jurisdiction or adverse direct or incidental effects may not be fully addressed by the provincial environmental assessment process or through federal and provincial permitting for this project (specifically, effects to transboundary environments, fish and fish habitat, and Indigenous peoples); and,
the project may cause adverse impacts on Aboriginal and Treaty rights recognized and affirmed by section 35 of the Constitution Act, 1982, and matters related to Indigenous peoples within federal jurisdiction that cannot be addressed through existing legislative and regulatory mechanisms.
"Castle would take down an entire mountain, could send dangerous water pollution hundreds of kilometres downstream and cut off travel routes for bears and other wildlife," said Sander-Green. Wildsight is one of the organizations that requested the federal assessment.
"With Teck's five existing mines in the Elk Valley and decades of mining already permitted, we desperately need a real assessment of the overall impacts from so much mountain-top removal coal mining in one valley."
While the mine was not automatically selected for federal assessment as Teck claimed it was only a small expansion of the existing Fording River coal mine, Minister Wilkinson pointed to the large size of the mine in his decision, he added.
The Minister also highlighted the downstream dangers from the mine for fish in the U.S., including species at risk and impacts on U.S. First Nations.
"Just last week, scientists announced that the amount of selenium pollution in Lake Koocanusa should be kept to less than half of what Teck is already sending downstream," said Sander-Green. "If Teck can't show how they can reduce selenium pollution downstream of their mines in the long-term—that means without expensive short-term fixes like water treatment that just push the problem down the road—then no reasonable environmental assessment should approve this mine."
Wilkinson also pointed to concerns from many who weighed in on the project, including his own Ministry, that B.C.'s environmental assessment wouldn't look carefully enough at all of the environmental risks of the mine.
"B.C.'s past environmental assessments for coal mines in the Elk Valley haven't grappled with the long-term dangers of water pollution," said Sander-Green, "so we're very happy to see Minister Wilkinson acknowledge people's concerns that B.C.'s assessments and permitting aren't keeping our rivers and fish safe."
In their report to the Minister, Canada's Impact Assessment Agency made it clear that, while B.C. and Canada can work together to make the assessment process go smoothly, a separate federal assessment is needed, Wildsight stated.
With multiple First Nations weighing in for the federal assessment from both sides of the U.S.-Canada border, Wilkinson also acknowledged that the mine could have impacts on First Nations' rights in their traditional territories.
"The Castle Project is part of the existing Fording River Operations and is necessary to maintain the 1,400 direct jobs and economic activity that the operation generates," noted Teck's Fraser.
"Mining in the Elk Valley provides about 4,000 jobs directly and over 11,000 jobs indirectly. We also contribute important revenues for government services, as well as billions of dollars for supplies. Teck is committed to engaging with communities and Indigenous groups to ensure that the environment is protected and that the project creates local benefits and opportunity.
We are making significant progress towards achieving the objectives of the Elk Valley Water Quality Plan (EVWQP)."
Fraser pointed out Teck's first water treatment facility at Line Creek operation is successfully treating up to 7.5 million litres of water per day, and "we are seeing reductions in selenium concentrations downstream of the facility.
"In addition, our first Saturated Rock Fill (SRF) facility has been successfully treating up to 10 million litres of mine-affected water per day at Elkview Operations. The Elkview Operations SRF is achieving near-complete removal of selenium and nitrate, and we are now working to double its treatment capacity to 20 million litres per day.
"We are constructing a third facility, the Fording River Operations tank-based plant, with an expected capacity of 20 million litres per day, which is scheduled to be operational in 2021. A fourth water treatment facility (SRF technology) has also begun construction at Fording River Operations.
"In 2021, we expect to have capacity to treat up to 47.5 million litres per day, and we expect significant reductions of selenium and nitrate in the watershed as a result," Fraser said.
See the Impact Assessment Agency of Canada report.
e-KNOW
---
Article Share
---