Home » A modest proposal for a homeless shelter
Posted: November 20, 2022
A modest proposal for a homeless shelter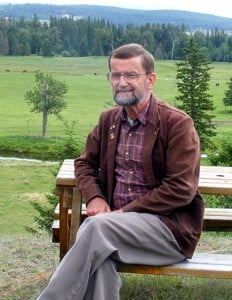 "Perceptions" by Gerry Warner
Op-Ed Commentary
I first saw him almost two weeks ago when the weather was starting to turn cold and windy.
It was just after eight in the morning and sad to say I initially thought someone had thrown a bag of garbage down the grotty old wooden staircase leading from the top of 17th Avenue to the Rec Plex.
But no, it wasn't garbage.
It was a man wrapped up in a heavy parka with a scarf covering his face. He was curled up in a ball on the debris-covered landing below the graffiti that covers the old staircase which had recently been painted over by the city. Taken aback, I bent over the man and asked if he was okay and a bearded face emerged from the dark pile and said he was fine before he quickly pulled his scarf over his face again.
I got to the bottom of the stairs, which I use to exercise every day, and started to think. It was cold out there, about minus three or four Celsius, and I was well bundled up myself. Street Angels, a wonderful facility for the homeless, was just a few feet away but it wasn't open yet. So, what to do? Just leave the guy lying in the cold? Somehow, that just didn't sit right with me. Okay Warner, what are you going to do? I think you know the answer.
I didn't do a damn thing.
But as I continued my work out my brain – I should really say my conscience – kept on grinding. Here I was feeling cold myself bundled up in sweats topped with a down jacket that I had bought in Kathmandu on my Everest hike. Now with temperatures hitting minus 20 C at night if that had been me out there, I likely would have frozen to death the night I stumbled across the poor homeless fellow freezing on the staircase.
So, what are the homeless doing now with temperatures falling to minus 20 or colder? Are we our brothers' keeper or aren't we?
And then, as I walked along, I did some more thinking. Hard thinking. Why don't I just go back and give that poor guy a nudge and ask him if he'd like to come home to my place for a hot coffee and breakfast? It would keep him warm until Street Angels opened and I would have done my good deed for the day.
Sounds so simple. My wife Sandra and I live only a short distance away and Sandy can whip up a mean batch of bacon and eggs the way you like them in no time flat.
Several times before, I'd done something like this with an aboriginal fellow I met on that same staircase who had a huge garbage bag full of recyclable cans and bottles over his shoulder to take to the recycling centre on Industrial Road No. 3. When he told me he walked with his heavy load all the way to the recycling centre on that long hill I took him there myself in my SUV and also gave him my own recyclables that I had been storing. I did that regularly with Ernie until he passed away earlier this year.
So why didn't I perform the same good deed for the homeless man sleeping on the frigid staircase?
I think you know the answer.
What would my wife have said still sleeping tight in her snuggly bed? I don't know this guy. Maybe he's a disreputable sort that would case our place and come back in the dead of the night with bad intentions. Or maybe he would take a shine to us and want to come over daily for breakfast. I don't think we were quite ready for that.
So once again I shamefully did nothing.
But then an idea hit me this week as I was listening to a CBC newscast on the radio. It seems somewhere on Vancouver Island a local church has invited homeless people out of the cold to sleep in the church overnight before they go back to the street at dawn. I don't know what the Cranbrook Ministerial Association would think about this, but Cranbrook churches already do a lot for the homeless and maybe they could extend their outreach another step.
But I also have another idea that I'd like to challenge the community with.  After passing a bylaw in July to subdivide Baker Park into three separate parcels, it looks like the city has new plans for the historic park, but to this point hasn't said what they are. Then allow me then to make a "modest proposal" as the author Jonathan Swift once did.
Wouldn't a subdivided parcel of that rustic park be an ideal spot for the homeless shelter that the city is always talking about, but doing nothing? It's close to the downtown, has all the services and would be a comforting and supportive location for people that have very little and would greatly appreciate the city – that's us – showing them a little care.  With the city already owning the land, costs would be much lower than other shelter proposals that have been mooted for the city in the past.
So, Cranbrook what do you think? Are we really our brother and sister's keeper as we like to say or is it just a lot of sanctimonious loose talk?
– Gerry Warner is a retired journalist who might need a shelter himself someday.
---
Article Share
---