Home » At the Library
Posted: April 11, 2017
At the Library
By Mike Selby
Cranbrook Public Library
'Darling, I'm going to Charlie' were the last words Maryse Wolinski heard her husband say before he was killed in the 2015 Charlie Hebdo attack. This memoir looks back at their 47-year marriage and her feelings about French security.
Standing amidst the devastation of the First World War, soldier Leslie Miller picked up a handful of acorns and mailed them home to Scarborough. One hundred years later, the trees are now over nine metres tall. Linda Granfield explains the story to younger readers in her latest book The Vimy Oaks.'
Preschool Story Time is this Wednesday at 11 a.m., 1:15 p.m. and 6:30 p.m., and Toddler Story Time is 10 and 11 a.m. Both will be all about eggs!
New this year is Baby Laptime on Fridays at 1 p.m. This program is for babies who are not yet walking so a specific age is not really set—best approximation is under 1 year of age.  Since we do not have daycare for older siblings we ask that parents who have babies and children who are walking come to the toddler storytime instead of the baby laptime.
On Wednesday, April 12 at 2 p.m. at the library, Cea Sunrise Person will be reading from her latest book 'Nearly Normal.' This book is a follow-up to her bestselling memoir 'North of Normal,' which chronicled her youth spent surviving off the land in the Alberta wilderness with her teenage mother and grandparents.
Is your house and garage too full? Too many pots, pans, lamps, pictures, linens, tools, toys, jewelry, gardening supplies, etc.  The Friends of the Library have a solution. Clear out your clutter and bring it to the Manual Training School (adjacent to the Library) on Friday, April 28 from 1 to 6 p.m.  Everything is welcome except large furniture. For further information call Louise at 778-517-1119.
A giant Garage Sale will be held on Sat. April 29 from 9 a.m. to 3 p.m. in the Manual Training School. Come out and find those hidden treasurers! All proceeds from this sale will be used for programs and services at the Cranbrook Public Library.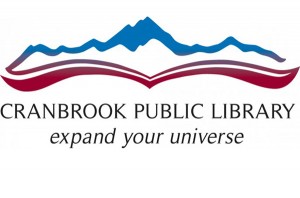 The Friends of the Cranbrook Public Library are hosting the Travelogue 'Yellowstone – Volcanic Land of Searing Waters" by Dan Hicks, at the College of the Rockies in room 250 at 7 p.m. on Tuesday, April 11. Yellowstone National Park in September features images captured away from the asphalt and boardwalks, notably along the Continental Divide Trail into Shoshone Geyser Basin. Admission is by donation and funds raised are used to support services and programs at the Cranbrook Public Library.
FREE one-on-one tech training session for those of you who want to enhance your current computing skills. We cover many topics including Basic Tablet usage, Basic Computer usage, Windows 10 training, Window 8 + 8.1 training, Window 7 training, Microsoft Suit training, Library E book training, and much more. To register, please contact the Library at (250) 426-4063, or sign up at the front desk.
On display this month is Esther's Art, a collection of paintings and crocheted hats by Lisa Van Drielen.
Please note the library will closed over the Easter weekend, from Friday April 14 to Monday April 17. We will reopen again on Tuesday, April 18 at 9 a.m.
Our website is up and running at: www.cranbrookpubliclibrary.ca
The Cranbrook Public Library Endowment Fund gives people an opportunity to create a meaningful legacy, to build a strong foundation in the present for the future of the library. For more information about how you can contribute.
ADULT NEWLY ACQUIRED ITEMS:
How to Profit from the Next Bull Market – Alan Dustin   (332.6)
Living with Schizophrenia – Jeffrey Rado   (616.898)
Medicine Unbundled – Gary Geddes   (362.108997071)
From Bacteria to Bach and Back – Daniel C. Dennett   (128.2)
The Hearing-Loss Guide – John M. Burkey   (617.)
Plants you Can't Kill – Stacy Tornio   (635)
Hysterectomy: Exploring Your Options – Edward E. Wallach   (618.1453)
Trout Tips – Kirk Deeter   (799.1755)
Pretend I'm Not Here – Barbara Fienman Todd   (070.92)
The Ruler's Guide – Chinghua Tang   (951.017)
Darling, I'm Going to Charlie – Maryse Wolinski   (bio)
Home on the Range – Ruth Logan Herne   (fic)
Can't Help Falling – Isaac Kara   (fic)
The Cherished Quilt – Amy Clipston   (fic)
The Mark of the King – Jocelyn Green   (fic)
A Piece of the World – Christina Baker Kline   (fic)
The Mother's Promise – Sally Hepworth   (fic)
What if the Queen Should Die – John-Paul Flintoff   (fic)
Close Enough to Touch – Colleen Oakley   (fic)
Stolen Beauty – Laurie Lico Albanese   (fic)
All That's Left to Tell – Daniel Lowe   (fic)
The Weight of Him – Ethel Rohan   (fic)
Devil in Spring – Lisa Kelypas   (fic)
Most Dangerous Place – James Grippando   (mys)
Dead Letters – Caite Dolan-Leach   (mys)
Marked for Revenge – Emelie Schepp   (mys)
Winter Journey – Diane Armstrong   (mys)
Tangled Webs – Irene Hannon   (mys)
Among the Ruins – Ausma Zehanat Khan   (mys)
The Lost Woman – Sara Blaedel   (mys)
The White City – Karolina Ramqvist   (mys)
Bone Box – Faye Kellerman   (mys)
Twelve Angry Librarians – Miranda James   (mys)
Purgatory Road – Samuel Parker   (mys)
What You Don't Know – JoAnn Chaney   (mys)
All Our Wrong Ways – Elan Mastai   (sci fic)
The Big Short   (DVD)
Alien Quadrilogy   (DVD)
YOUNG ADULT & CHILDREN'S NEWLY ACQUIRED ITEMS:
Black Widow: Forever Red – Margaret Stohl   (ya fic)
Poison's Kiss – Breeana Shields   (ya fic)
Iceling – Sasha Stephenson   (ya fic)
Maresi – Maria Turtschaninoff   (ya fic)
Zero Day – Jan Gangsei   (ya fic)
The Vimy Oaks – Linda Granfield   (j 940.46544)
Robins – Eileen Christelow   (598.842)
Ready, Set…Baby! – Elizabeth Rusch   (j 306.8753)
---
Article Share
---