Home » At the Library
Posted: May 10, 2017
At the Library
By Mike Selby
Cranbrook Public Library
'They Desire a Better Country' examines the lives and contributions of 50 different winners of the Order of Canada.
Scott Pearson explains to younger readers how invasive species are introduced and the damage they can spread in 'Zebra Mussels.' (The image above shows a cluster of zebra mussels.)
Preschool Story Time is this Wednesday at 11 a.m., 1:15 p.m., & 6:30 p.m., and Toddler Story Time is 10 and 11 a.m. Both will be all about Mothers! Please note there are only two Story Times left before summer. May 19 will be our last one. I hope everyone comes out for the next three weeks.
New this year is Baby Laptime on Fridays at 1 p.m. This program is for babies who are not yet walking so a specific age is not really set—best approximation is under one-year of age.  Since we do not have daycare for older siblings we ask that parents who have babies and children who are walking come to the toddler storytime instead of the baby laptime.
FREE one-on-one tech training session for those of you who want to enhance your current computing skills. We cover many topics including Basic Tablet usage, Basic Computer usage, Windows 10 training, Window 8 + 8.1 training, Window 7 training, Microsoft Suit training, Library E book training, and much more. To register, please contact the Library at (250) 426-4063, or sign up at the front desk.
On display this month is Bill Dove's extensive Falconry display, including equipment, books, photos, and a host of information about this sport.
Our website is up and running at: www.cranbrookpubliclibrary.ca
The Cranbrook Public Library Endowment Fund gives people an opportunity to create a meaningful legacy, to build a strong foundation in the present for the future of the Library. For more information about how you can contribute.
ADULT NEWLY ACQUIRED ITEMS: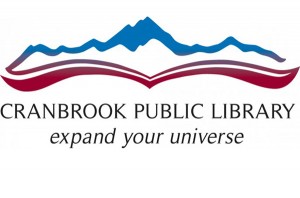 Big Fit Girl – Louise Green   (613.71082)
Eat Delicious – Dennis Prescott   (641.5)
The Book of Matcha (Green Tea Powder) – Louise Cheadle   (615.321)
They Desire a Better Country – Lawrence Scanlan   (928.8171)
Every Wild Heart – Meg Donohue   (fic)
The Year of the Comet – Sergei Lebedev   (fic)
A Separation – Katie Kitamura   (fic)
Sisi – Allison Pataki   (fic)
Last Chance Matinee – Mariah Stewart   (fic)
Their Finest – Lissa Evans   (fic)
A Family Secret – Josephine Cox   (fic)
To the Farthest Shores – Elizabeth Camden   (fic)
Besieged – A.J. Tata   (fic)
The Best of Adam Sharp – Graeme Simsion   (fic)
The Shadow Sister: Star's Story – Lucinda Riley   (fic)
We Were the Lucky Ones – Georgia Hunter   (fic)
The Forbidden Garden – Ellen Herrick   (fic)
A Secret Garden – Katie Fforde (fic)
Her Secret – Shelley Shepard Gray   (fic)
The Book of Polly – Kathy Hepinstall   (fic)
The Wages of Sin – Kaite Welsh   (mys)
Say Nothing – Brad Parks   (mys)
The Trophy Child – Paula Daly   (mys)
A Test of Wills – Charles Todd   (mys)
The Devourers – Indras Das   (sci fic)
Hacksaw Ridge   (Blu-ray) (DVD)
Whiskey Tango Foxtrot   (Blu-ray) (DVD)
Sully   (Blu-ray) (DVD)
Aloha   (DVD)
Home Fires: Season 2   (DVD)
The Secret History of Isis   (DVD)
YOUNG ADULT & CHILDREN'S NEWLY ACQUIRED ITEMS:
The You I've Never Known   (ya fic) (e-book)
Daughter of the Pirate King – Tricia Levenseller   (ya fic)
Passenger – Alexandra Bracken   (ya fic)
To Catch a Killer – Sheryl Scarborough   (ya fic)
Monarch Butterflies – Rebecca Hirsch   (j 595.789)
Zebra Mussels – Scott Pearson   (j 594.4)
Caribou – Rebecca Hirsch   (j 599.658)
How Batteries Work – Victoria G. Christensen   (j 621.31242)
How LEDs Work – James Roland   (j 621.31242)
South American Cloud Forest – Vicky Franchino   (j 577.34)
Canadian Taiga – Vicky Franchino   (j 577.37)
Great Barrier Reef – Vicky Franchino   (j 574.91943)
Cavern of Secrets – Linda Sue Park   (j fic)
Payback – Gordon Korman   (j fic)
Olga and the Smelly Thing from Nowhere – Elise Gravel   (j fic)
---
Article Share
---