Home » A flood may happen but maybe that's not so bad
Posted: May 22, 2022
A flood may happen but maybe that's not so bad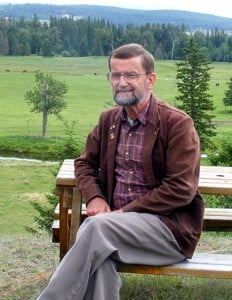 "Perceptions," by Gerry Warner
Op-Ed Commentary
Don't look up!
Don't do it unless you're interested in a potential catastrophe that could hit our region and many other parts of B.C. in the next month or so.
I'm referring, of course, to the snow that still hangs heavily on the local peaks and ridges of the Rockies, Purcells and most other mountain ranges in B.C. and throughout the entire Cordilleran Mountain Range including B.C., Alberta and the US.
As you must have noticed by now this has been one of the coldest springs in memory which accounts for all that white stuff where it should be green by now.
Hydrologists and weather forecasters say this could trigger a "200-year flood level" in western North America. This last happened in 1894 when the interior of B.C. was mainly occupied by aboriginal people and they simply moved to higher ground to escape.
However, the 1948 flood, even though it wasn't as high as 1894, was a different story because the province was built up by then and damage was in the millions including the Fraser Valley as well as Kimberley (pictured above) and Trail in the Kootenays.
Last November's "atmospheric river" flood also did millions in damage to the Lower Mainland and parts of the southwest interior but we fortunately dodged the bullet on that one because it was a "rain-on-snow" flood event and we escaped most of the rain.
However, the potential flood coming now will likely be a good old-fashioned snow melt flood and if we get another "heat dome" like we did in late June last year it could mean catastrophic flooding everywhere in the province and time to build an ark.
As usually is the case in life, timing is everything. If the heat dome or just a five-day stretch of warm weather comes before the end of May we'll get high water, but likely not a flood. But as we ominously approach June and the prospect of warmer weather things could be far different, especially with a snowpack that was 13% above normal at the end of April according to the River Forecast Centre.
That level could be much higher now because of the delayed snow melt in the hills. Another snowpack report will be issued before the end of May and that should tell the tale. If the snowpack is considerably reduced by then water levels will be high, but not flood level.
However, if there's still lots of snow to melt going into June you better sharpen your ark-building skills as another "heat dome" event in late May or early June will mean all bets are off except to call Noah!
But the real elephant in the room is climate change, which is greatly increasing the chances of flooding in B.C. and everywhere else. A warmer climate results in earlier spring runoffs attaining higher levels followed by summer drought, wildfires and smoke. Not a pretty picture. And if this isn't bad enough, B.C. is also subject to another potential cause of flooding – industrial logging – on a level of magnitude higher than most areas in the world.
In "Beautiful BC" steep hillsides are clear cut and stripped bare to the ground with nothing left behind to hold back the water. Is it any wonder then that clear mountain streams beneath the shade of the forest canopy – especially Old Growth – become muddy torrents raging down the hillsides feeding the rivers below until they jump their banks?
That's not rocket science. We learn about the water cycle in Grade 4 and how it nourishes the forest and all the species that depend on it. But when we "mature" we ignore what we've learned and we get floods and all the other natural catastrophes besetting the planet.
Let's face it. The world needs a break. We've got to lower our emissions, learn how to get by on less and live a more equitable lifestyle where everyone benefits, including the environment.  If we don't do this in the next generation or so civilization as we know it will come to an end. Some might say just as well.
I hope that's not the case.
Columbia Basin Institute of Regional History photo
Gerry Warner is a retired journalist, who's trying hard to be optimistic.
---
Article Share
---