Home » Changes to come in a post COVID-19 world 
Posted: May 24, 2020
Changes to come in a post COVID-19 world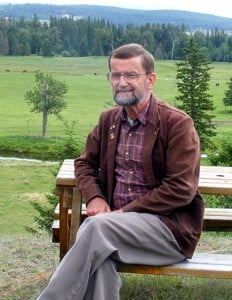 "Perspectives," by Gerry Warner
Op-Ed Commentary
"It's a new normal."
How many times have you heard that phrase the past two months and gritted your teeth? Or felt a bit annoyed. Or grimaced at being told the obvious. Good thing that we Canadians are so innately polite or there might be blood on the streets. But it's true. COVID-19 has changed the world and we can only guess at how far those changes are going to go. Here are a few that may go further than some of us want.
Working in an office is one. Thanks to the Internet and online technology, fewer of us will be doing that in the future. Prior to the pandemic erupting in March, I'd never heard of the online video-conferencing program Zoom. Now it seems I'm on Zoom every other day and peering into the messy bedrooms of people I hardly even know or sussing out their kitchen décor.
Thanks to Zoom and other video-sharing programs like it, the corporate world has discovered that brick-and-mortar office buildings aren't needed for meetings anymore and everything can be done online. Good-bye office towers. Good-bye the construction industry. The only thing going up downtown these days is the vacancy rate.
And what about air travel? Air Canada announced this week it's going to lay off 20,000 of its employees and cut 95% of its passenger capacity. Good-bye to that vacation to the Mayan Riviera or any other resort hotspot. And would you really want to chance a cruise ship holiday knowing you could get stranded off the coast of Zanzibar in a floating petri dish if a second wave of COVID-19 returns. And that's not "if." It's when according to B.C.'s best-known public health doctor, Bonnie Henry, who says pandemics always return, usually within a year.
And what about the hospitality industry: restaurants, bars, nightclubs and the like? If they practise social distancing, and the law will require them to do so, can they survive with a third or more of their seats unavailable? Not very many will survive and take-out only goes so far.
Many people are cooking their meals at home again and discovering they like it. And can you imagine how tight the sphincters must be in Las Vegas, a one-industry resort city dependent on hotels, bars, nightclubs and convention halls being full of people jammed together 24/7.
Vegas Mayor Carolyn Goodman became a world-wide laughingstock when she suggested on CNN that Vegas should remain wide open despite the pandemic to act as a "control group" to measure the effectiveness of anti- COVID-19 measures practised in other cities. One Vegas official called her comments "reckless and dangerous" and another said she was an "embarrassment."
Education is another area of major concern. Schools are starting to reopen but to what? How do you socially space children? Online education is a partial answer, but only partial, and is hard on both students and their teachers. This academic year has been a bit of a wash and no one should be blamed for that. But what's the education plan for this fall? No one seems to know.
Locally, what's the plan for Western Financial Place? There's been no swimming for the past two months and the $21-million facility has been closed for other sports, concerts and entertainment as well. The roof leaks, the building loses money and thanks to the pandemic the return of hockey to the building may be compromised as well. And when will the Library, History Centre and Railway Museum re-open? Street Angels is still closed and it provides a vital and much appreciated service for some of the city's most challenged residents.
Change is certainly in the air and there's not a lot of information coming out of City Hall on what these changes might be. As for the world-wide changes caused by the pandemic only a seer like Nostradamus could predict. Best to remember Dr. Henry's sage advice: "Be calm. Be kind. Be safe."
Who could argue with that?
– Gerry Warner is a retired journalist, who's trying to follow the good doctor's advice.
---
Article Share
---