Home » Christmas can also be a time to learn
Posted: December 21, 2019
Christmas can also be a time to learn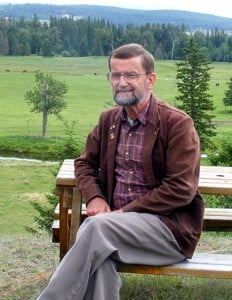 "Perceptions," by Gerry Warner
Op-Ed Commentary
Maybe the kids will save us.
With Christmas fast approaching and the daily litany of murder, mayhem and corrupt politicians dominating the airwaves an inspiring story suddenly popped out of the news cycle that gave even this hardened, old reporter reason to hope.
A 12-year-old Port Moody girl has been garnering headlines recently by picking up and properly disposing thousands of cigarette butts from the streets and sidewalks of her coastal community. And why is she voluntarily doing this yucky job? Volunteering at a fish hatchery, she learned that the plastic cigarette filters are toxic to fish when they wash up in local streams.
Interviewed by CBC, Aniela Guzikowski said she learned what cellulose acetate filters can do to fish while volunteering at the Mosson Creek Salmon Hatchery near Port Moody. Since then, she's picked up more than 7,000 carelessly discarded butts in her neighbourhood which borders on Burrard Inlet near Vancouver. "Kids can make a difference and if people listen to kids, they're going to learn something," she told CBC.
All I can do is say amen to that and marvel how youth today are leading the way in inspiring disenchanted old boomers like yours truly and the device-obsessed generations that have followed to get with the program and start doing something practical to deal with plastic pollution that's threatening the world's oceans and playing a major role in climate change that's negatively altering the planet.
If the prescient, Swedish teen Greta Thunberg can move millions to action, there's no reason others can't do the same. "If we've got a huge number of people working together, even if it's small actions, we can do something incredible," says the pre-teen Guzikowski. And this youngster, that all British Columbians should be proud of, walks the talk starting an online petition asking that cigarette filters be part of a single-use plastics ban expected from Ottawa in 2021, according to CBC.
From the mouths of babes. And when you consider that several cities in B.C., including Vancouver, Victoria and Rossland, have proposed plastic bag bans it shows how the war against plastic pollution is accelerating. Why don't we ban plastic shopping bags in Cranbrook? Don't we care? Do we lack the vision? Or are we waiting for our youth to act?
And why should we care? Consider this.
According to a UN study, more than eight million metric tons of plastic wash into the oceans every year. That's the equivalent of five grocery bags filled with plastic for every foot of ocean coastline in the world. By 2050, scientists predict the total weight of plastic in the oceans will out-weigh the amount of fish. Much of the ocean pollution is in the form of micro-plastics that accumulate in the stomachs of fish and other marine life until they die.
Closer to home, the world-famous Kootenay Lake trout fishery continues to decline with Kokanee stocks collapsing, reducing the trophy Gerrard Rainbow Trout species which depend on the Kokanee for food. An ominous sign I've noticed in recent summers at Kootenay Lake is strands of seaweed (milfoil?) floating in the middle of the lake when you cross it on the Balfour ferry.
Let's face it. We're messing up the world's environment big time and it's only a matter of time until it messes up us. Our wasteful ways are strangling the Earth yet most of us remain indifferent. The millennials seem to sense this – even children – while the rest of us go on with our endless consumption. Maybe this should be a conversation topic while we're chowing down on turkey over Christmas.
As for a New Year's resolution, why don't we engage with our millennials more? According to Aniela Guzikowski and Greta Thunberg, we might learn something.
– Gerry Warner is a retired journalist, who'd like to think he's still learning a thing or two. Merry Christmas!
---
Article Share
---