Home » Clear cutting hurts us all and should be reduced
Posted: February 16, 2019
Clear cutting hurts us all and should be reduced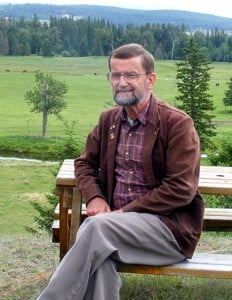 "Perceptions," by Gerry Warner
Op-Ed Commentary
Are Kootenay residents finally becoming concerned about clear-cut logging? Recent events suggest they are as the once green blanket that used to carpet the region continues to be shredded by chainsaws and feller-buncher machines.
Elk Valley residents expressed concerns as close to 200 of them packed a meeting in Fernie Feb. 7 to express anger over huge clear-cut scars that have opened up on steep slopes just north of town on private land being logged by CanWel Building Materials Ltd., a large national company listed on the Toronto Stock Exchange.
Meanwhile a GoFundMe campaign by a Nelson-based citizens group raised more than $50,000 in less than a month to fight clear-cut logging on private land surrounding Cottonwood Lake, a secluded area popular with local hikers, cross-country skiers and nature lovers.
What has angered logging opponents in both cases is that the logging is taking place on private land where there is little regulation of logging practices. As a result, the clear-cut patches are even bigger and uglier than the cut blocks on Crown land, which are regulated by government but still scar the landscape.
"If we're not taking care of wildlife and ecosystems when we log on private land, the health and function of this valley is in jeopardy," Wildsight representative Eddie Petryshen told the meeting Feb. 7, according to local media.
A CanWel spokesman said the company's logging followed guidelines set by government. But Wildsight representatives argued the company was "doing the bare minimum" and should do better.
In a pre-recorded video played at the meeting, Kootenay East MLA Tom Shypitka acknowledged that CanWel wasn't breaking government regulations such as they are. "So, it's not so much the company but it's the legislation associated with it that we have to address."
As a long-time critic of forestry practices in B.C., especially the almost unlimited use of clear cutting as the prime logging method in the province, I give Shypitka credit for acknowledging that the solution lies with government. Even on public forest land, clear cutting restrictions are ridiculously slack.
Judge for yourself. Every year the clear-cut patches of the Kootenays grow ominously larger.
Perry Creek, Wildhorse Creek, the St. Mary Valley, it doesn't matter. What was once an uninterrupted sea of green is disfigured by grotesque, brown, gashes cut into the verdant landscape. It's called "industrial logging" and while it's very good at mowing down trees it also boosts the amount of carbon in the atmosphere by removing the trees and adds more deadly carbon to the air by burning the logging waste left behind.
Clear cutting results in a spider web of roads in what was once wilderness causing erosion and slides that foul local watersheds, pollute major streams and adversely affect wildlife. They also break up the forest canopy, which makes it easier for wildfires to start resulting in a pall of smoke that increasingly fills our valleys every summer ruining recreational camping and hiking opportunities and reducing tourism. As the natural forest cover is removed flooding increases and there are many that believe clear cutting was a major factor in the flood that devastated Grand Forks last spring.
Yes, clear cutting creates jobs and profits for the logging industry and is good for the economy. But at what price? Desecrating the very land we live on is the price and surely that price is getting to be too much?
But the answer isn't to ban logging. Mother Nature is eternally generous and produces a surplus of trees that could be harvested forever if we were just to do it more carefully and sustainably.
Instead of clear cutting to the bare ground, we should log selectively and over a longer time frame leaving enough trees behind that the forest would remain intact and there would be no clear cuts.
Forests logged selectively are less prone to fire and produce less waste and can be harvested on a continual basis as long as the harvesting is kept to sustainable levels. So logging could continue, but it would be a less exploitive system that would still make a dollar for industry while allowing our magnificent, green patrimony to remain.
The only reason you've never seen logging like this is it's never been tried.
Lead image:  Clear cut logging in the St. Mary Valley west of Kimberley. Gerry Warner photo
– Gerry Warner is a retired journalist, who laments the loss of our forests as we have known them.
---
Article Share
---