Home » Close encounters of the nightmarish kind
Posted: June 13, 2021
Close encounters of the nightmarish kind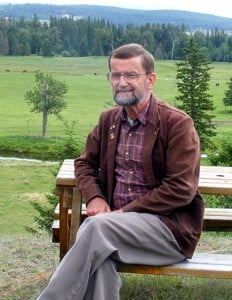 "Perceptions," by Gerry Warner
Op-Ed Commentary
For me, at least, there's been something good about the Covid era we've been painfully enduring for more than the past year.
Aside from the tragic deaths and disruption – and I don't mean to diminish that – Covid has brought back a phenomenon that's been basically dormant for the past generation and I really miss it as it reminds me of the nightmares I had in my misspent youth.
Flying saucers!
Yes, I was an astronomy nerd when I was young and I really believed in flying saucers. Many others did too in those jittery days. But those dreams eventually faded away for most flying saucer believers, including me.
But thanks to Covid – or maybe because of Covid – people are seeing disc-shaped objects hovering over us again. For some they never left. As a result, the US Defence Department opened a highly secret investigation and will be reporting to Congress June 25 on 127 incidents of "unidentified aerial phenomena," or UAPs as UFO's are now called. The Pentagon wants to determine whether these celestial objects are a threat to US national security. Maybe Canada's too.
Details of the investigation were first reported by the New York Times, CNN and the Washington Post and while the great majority of the incidents are easily explained as meteorological phenomena, man-made space detritus falling back to Earth or outright hoaxes, some cannot be explained other than as possible "extra-terrestrial activity," according to a BBC story June 4.
Retired jet pilot Ryan Graves told the BBC that his fighter squadron once saw UFOs hovering over restricted airspace off the coast of Virginia in 2014. Similar sightings had been seen by his squad "every day for at least a couple years," he said.
Last month, Luis Elizondo, a former US counter-intelligence agent, told ABC News that some of the objects sighted "can outperform anything that we have in our inventory. The question is, what is it? The bottom line is, we simply don't know."
But I can easily speculate that whatever it is it's not little green men from Mars or creepy creatures from the Andromeda Galaxy.
However, I have to admit I'm open to the possibility of other life forms in deep space as plain logic would decree. Surely, we're not the only species in the universe with a heartbeat and a bad attitude.
Astronomers tell us there are other heavenly bodies orbiting in the so-called "Goldilocks Zone" where the temperature and atmospheric conditions are just right to produce water and oxygen, the basic building blocks of life. Maybe other civilizations have existed eons before us and have figured out how to prolong life indefinitely just as they've been trying to do in Silicon Valley for years. Maybe they've bent the laws of physics and thermodynamics so far, they can travel faster than the speed of light. And you know what that means. We've got neighbours!
Time becomes elastic at the speed of light, making interstellar travel possible. This might mean new neighbours dropping by from Betelgeuse, the 10th largest star in the night sky. Awfully far out don't you think?
And you can bet our Betelgeuse neighbours won't be anything like us if they've shattered the space/time continuum. Instead, they would be beings of vastly more intelligence than us, who long ago put aside the Seven Deadly Sins of our civilization and replaced them with peace, love, and empathy. Such beings would transcend all the petty little evils and the big ones too that impair our crude civilization and threaten to destroy our miserable planet.
We would seem like a nightmare to them! Our oceans and rivers polluted, our forests burning down, our atmosphere filled with toxic gases, species going extinct as well as wars, disease and pestilence everywhere. They would quickly recognize who was at the at the top of the food chain and bore responsibility for most of the destruction – good ol' homo sapiens – especially the saps living in the richest parts of the Earth. And would they talk to us?
Surely you jest. They would have better things to do than to contact a dying civilization.
– Gerry Warner is a retired journalist, who still has the occasional bad dream. But not of flying saucers.
---
Article Share
---