Home » Horgan tries to dodge old growth issue but fails
Posted: June 20, 2021
Horgan tries to dodge old growth issue but fails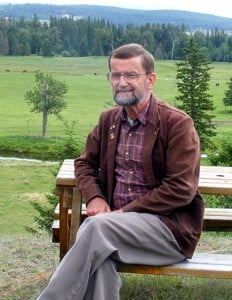 "Perceptions," by Gerry Warner
Op-Ed Commentary
There's nothing innately wrong with chopping down a tree.
In a province as big as B.C., there's nothing wrong with chopping down lots of trees. But when you've chopped down 95% or so of the natural old growth timber in a province as vast as B.C. there's only one thing you can call it.
Ecological genocide.
You may think I'm being hyperbolic. But look around you. That's what we've done to this "beautiful" province and our beauty is receding every day as the chainsaws growl and the feller-buncher machines clear another ugly clear-cut in a single day.
How did this environmental atrocity happen? Sadly, the answer is quite simple. Two words sum it up – time and technology.
We've come a long way since steam donkey trains, wooden flumes and cross-cut saws were replaced by chainsaws, integrated diesel truck and trailer units and feller-buncher machines that can mow down a forest like a lawn mower cuts a lawn. But no one really noticed because the bulk of the logging occurred "out there" in the backcountry out of site of the general public. And out of mind.
So it wasn't until clear cuts – some of them so large they can be seen by orbiting satellites – started appearing close to major provincial towns and cities, rural community watersheds, favourite recreational spots and the like that Mr. and Mrs. BC started to take notice. Many B.C. First Nations also became agitated as industrial logging encroached on traditional tribal land they lived on for 10,000 years and was basis of their culture, spirituality and sustenance.
And thanks largely to First Nations, in particular those led by hereditary chiefs as well as environmental groups, what could best be called a "great awakening" began to occur in how logging was viewed in the province. And the view wasn't favourable.
Speaking at a demonstration in front of the B.C. Legislature June. 7, long-time environmental advocate and Order of Canada member Vicky Husband accused Premier John Horgan's government of stalling on the 14 recommendations in its Old Growth Strategic Report. "This government just lies, they don't intend to protect anything," she told Global News.
Meanwhile Horgan brokered a deal with three First Nations to delay old growth logging at Fairy Creek on Vancouver Island for two years. The Premier called the deal "monumental," but Husband and other critics are calling for a complete moratorium on old growth logging in the province and say Horgan is only offering more talk and log.
"Let's call Premier John Horgan's forest policies what they are, a colonial defence of talk and log and a moral failure to protect the province's remaining old-growth forests," Husband told the Tyee.
And lest anyone think the old growth issue is confined to coastal B.C. they would be badly mistaken. Stands of old growth exist throughout the province including the East and West Kootenay and anywhere in the Interior that gets higher amounts of precipitation including the Elk Valley and drainages feeding the Kootenay, Columbia, Thompson and Upper Fraser Rivers.
In the East Kootenay alone, BC Timber Sales, the Crown agency that controls more than 40% of public forest lands in B.C, has announced cutting plans for Rocky Creek, Peavine Creek and Mark Creek in the Cranbrook Timber Supply Area as well as valleys impacted by the Doctor Creek wildfire last summer in the Invermere Timber Supply area.
It's not known how much of this logging will take place in old growth, but certainly some of it will. If you want a good idea of the amount of timber coming out of the already heavily logged East Kootenay, take a look at the log sorting yard next door to Yahk.
It might appall you.
Gerry Warner photo
– Gerry Warner is a retired journalist, who is nearing the "old growth" stage of life himself.
---
Article Share
---