Home » A modest proposal for the future of the Kootenays
Posted: July 2, 2016
A modest proposal for the future of the Kootenays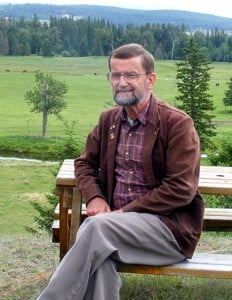 "Perceptions" by Gerry Warner
As the shockwaves subside from the Disunited Kingdom voters' decision to separate themselves from the European Union (EU) it seems there will be no end to the madness.
No, I'm not talking about Quebec, where separatist flames are barely flickering or Catalonia breaking away from Spain, or for that matter, Scotland ditching not-so-great "Great" Britain for the EU.
I'm talking about a separatist movement much closer to home. No further away then just off the Left Coast in fact where a new political party has sprung up wanting to make Vancouver Island Canada's eleventh province.
No kidding!
This week saw the launch of VIP, the Vancouver Island Party led by a former MP in Joe Clark's Progressive Conservative government and a Harvard economist at that. Robin Richardson wants to run candidates in all 14 Vancouver Island ridings in the May 2017 provincial election and have an Islanders-only vote on becoming Canada's 11th province in 2021, the 150th anniversary of B.C. joining Confederation.
"Our beloved Island's distinct way of life is under threat from severe climate change, federal and provincial government indifference and economic, environmental and social injustices," the party's website says. Its platform includes lower ferry fares and free university tuition. "Our motto is Island first and proud of it," said Richardson in a CBC interview.
Whew! Maybe the VIP leader also wants to turn water into wine and lead into gold? It's certainly a very ambitious platform. But after all, we are dealing with B.C. politics.
Say what you want though, these VIPers are serious. They've even designed a flag that looks startlingly like the Red Ensign. It features a circular white badge with the trident of Neptune and the wand of Mercury representing the sea and trade, a pine cone representing the forest – though a chainsaw might be more accurately symbolic – and a beaver to represent the fur trade or maybe all the furry critters in our wildlife-rich province.
Whatever the case, these super-patriotic Vancouver Islanders got me to thinking. If a chunk of terra firma as small as Vancouver Island could become a province, why not the Kootenays? After all, we're bigger than The Island and much bigger than Prince Edward Island.
We're a long way from our provincial capital in Victoria and often ignored by it. And we're unique in many ways. We have historic Nelson, one of the mellowest cities in the country with its Victorian architecture, laid-back lifestyle and the shaggiest, '60s-era hippies you'll find north of San Francisco. There's Trail with the biggest lead/zinc smelter in the world and some of the best Italian cuisine to be found east of Italy; Kimberley with the only power-generating SunMine in the province, Fernie with its legendary skiing and fishing. And then, of course, there's Cranbrook with its lively, if much maligned "Strip" and its unique Sam Steele festival dedicated to the man that brought peace to the valley between the invading settlers and the indigenous Ktunaxa who were being pushed off their land after more than 10,000 years of successful settlement.
What better example is there of peaceful co-existence and learning to get along? And what better community than Cranbrook to be capital of this new province? We are, after all, the "Key City" of the Kootenays.
Surely if Scotland can separate from England after more than a thousand years, as is being talked about now, why couldn't the Kootenays separate from B.C., an arrangement less than 150 years old? Think about it because there's only one other logical alternative for separation.
Join Alberta!
– Gerry Warner is a retired journalist, who's been known to write tongue-in-cheek on occasion.
---
Article Share
---