Home » Rotary supported Hippo Rollers are improving lives
Posted: March 7, 2021
Rotary supported Hippo Rollers are improving lives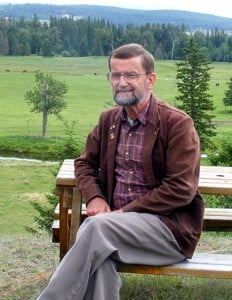 Perceptions, By Gerry Warner
Op-Ed Commentary
Genius comes in many forms and nowhere can this be seen better than in the invention of the "Hippo Roller."
The Hippo Roller? What the heck is that, you ask? Nothing less than a simple, relatively inexpensive way to make an efficient device that will greatly improve the lives of thousands in South Africa and numerous other impoverished African and Asian countries. In many cases, the Hippo Roller can literally be the difference between life and death in poverty-stricken Third World countries. So, what is this miracle device? Probably the best example of "low tech and high return" you've ever heard of and you can even get involved with this life-saving mission right here in Cranbrook.
It's time to fess up and explain what's being so enthusiastically talked about here.
If you know anything about Africa and many other rural areas of the world, you know that the key element to survival is water. Without water, people die quickly. Potable water is needed for drinking, growing crops, feeding livestock, washing clothes, and cleaning dishes and numerous other tasks of daily living.
Trouble is fresh water isn't always available out of a tap like it is here. As a result, many in Sub-Saharan Africa and other Third World areas have to walk miles to the nearest well or stream. And who does more than 90% of the walking and carrying, mostly on their heads? It's the women of course, and their children who carry water jugs so heavy it can injure them physically and shorten their already strenuous lives. But if they don't do this back-breaking task every day, their families won't survive for long in these often drought-stricken parts of the world.
And that's where the Hippo Roller enters the picture.
The Hippo Roller, invented in 1991 in Johannesburg, by two South African engineers, is a round, plastic (polyethylene) barrel with a sturdy metal handle that women use to roll up to 90 liters (24 gallons) of life-giving water from the water source closest to their homes. The principle is maddingly simple. The barrel itself acts both as a water container and a wheel to move the water far more easily than carrying it on top of the head. As a result, more water can be carried in less time and moved with less effort.
So simple yet so perfect and it's improving women and children's lives all over the Third World. "The innovation of transporting more water more efficiently makes more time available for education, household tasks, food production and watering crops," said Grant Gibbs, Project Leader for the Hippo Water Roller Project.
In 30 years just over 60,000 Hippo Rollers are in use in 20 countries around the world. Not nearly enough, but more are being produced all the time. It costs roughly US$ 150 to make a Hippo Roller and the Cranbrook Sunrise Rotary Club has sponsored a couple and now wants to spread the word to get more of these revolutionary devices produced worldwide.
This would save millions of women and girls from having to spend three to six hours per day collecting water for their household needs. What a waste of human resources! Wouldn't you want a Hippo Roller if this was your job?
"The Hippo Water Roller – A smarter way to move water!" Please check out the following website and short video to see this life changing roller.
If you'd like to make a personal donation to the cause yourself – and what better thing could you do for International Women's Day March 8? To do this the Canadian contact is Luke Vorstermans, Chair, Hippo Water Roller Project, Rotary Club of Gibsons, B.C., T:778-872-4402  or email [email protected].
The devices are simple, but the benefits are endless.
Photos submitted
---
Article Share
---