Home » Time has come to be a living wage community
Posted: September 10, 2016
Time has come to be a living wage community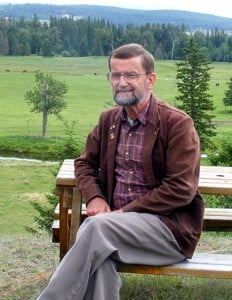 "Perceptions" by Gerry Warner
Does Quesnel Mayor Bob Simpson have a better idea?
Simpson announced this week that Quesnel would join New Westminster in becoming the second community in the province to be a "living wage community."
The living wage in the north Cariboo town has been pegged at $16.52-an-hour, well above B.C.'s minimum wage of $10.45-an-hour, the lowest provincially mandated minimum wage in Canada. In New Westminster the living wage has been set at a generous $19.62-an-hour.
But before all you working poor start doing cartwheels or making plans to buy a new car, there's a catch. Several actually. But just the same this is good news for all those struggling to make ends meet.
The major catch is that the living wage policy applies only to those working for the municipalities concerned and companies contracting to the city. So if you're only earning the minimum wage at a local fast food restaurant or any other business in town not directly connected to the city, you're out of luck. So put off those plans for more grocery money at least for now.
But don't kid yourself. There's a change in the air. The thinking around minimum wage and living wages is starting to change and that can only be good news for those struggling to put food on the table or buying clothes for their kids.
In an interview with CBC Radio Mayor Simpson put it this way. "What we're clearly trying to do is to establish a benchmark to get all employers in our community to think about what they're paying their employees. Can their employees earn enough through their wages to be able to live comfortably and affordably, and be able to participate in the economy?"
Surely the key word in the above is "participate." How do you "participate" in the economy of your hometown, if after paying for the basics, you don't have any money? Isn't it about time economists, planners and politicians started dealing with this vital issue?
In Quesnel's case, Simpson said the town's economy has been slipping in recent years as the pine beetle ravaged forests in the region, forcing mills to close, businesses to go under and jobs to disappear. "But as we look at the long-term future, we're a community that's going to transition away from high-paying industrial jobs to more of a service sector economy — more tourism industry, more small and medium-sized enterprises."
But this situation isn't unique to Quesnel. Travel anywhere in B.C. outside the Lower Mainland and the Okanagan and you'll see the same dismal picture. Empty mall spaces, shuttered office windows and abandoned lots. About the only businesses doing well are liquidation outlets, dollar stores and food banks if you consider them a "business." Look around Cranbrook. Former Canadian Tire building, empty. Former Super Valu, empty (for at least 20 years). Former Kootenay Springs building, empty. Former Legion building, empty. And in January 2017 the HSBC Bank is leaving town. The malls are not exactly bustling either. We may not be the rust belt, but we haven't had a significant new industry in town for at least 20 years.
Yes, the "P" word (poverty) is alive and well in the Key City and despite all the helping agencies we have in town many of our residents are hurting.
So what to do?
There are no easy answers, of course, but maybe our city council should consider making us the third municipality in Canada to have an official living wage policy? It wouldn't be an overnight solution but it would be a step in the right direction to see Cranbrook join Quesnel and New Westminster not to say other progressive cities like Seattle and San Francisco where the minimum wage is being raised to $15-an-hour in stages for almost all workers.
In truth, B.C. Premier Christy Clark has announced B.C.'s minimum wage is going up to $11.25 in 2017 which is a step in the right direction, but not nearly enough and still behind most other provincial minimums.
Let's cut to the quick. Employers complain with some justification that raising the minimum wage or a livable wage policy comes off their bottom line. But what do the working poor do with their money? They spend it! And where do they spend it? In the community of course where it benefits every store, business and service in town as opposed to the top two per cent or so, who often invest in hedge funds and dodgy financial ventures off-shore that does nothing for the town in which they live.
Isn't it about time we started spending our money in a more sensible and socially responsible manner?
– Gerry Warner is a retired journalist, who cannot even afford mutual funds anymore.
---
Article Share
---