Home » World Rivers Day gives a gift to the Peace River
Posted: September 23, 2017
World Rivers Day gives a gift to the Peace River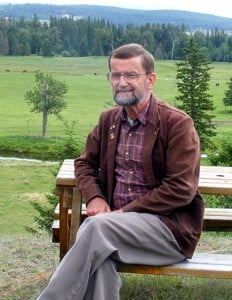 "Perceptions" by Gerry Warner
World Rivers Day takes place Sunday, Sept. 24 and it looks like at least one river in B.C. may have a special reason to celebrate this year. That much-maligned stream, of course, is the mighty Peace River as it looks increasingly unlikely that the $8.8 billion Site C project will go ahead.
And all I can say is amen to that!
Prior to the B.C. election, the totally unneeded project looked like a slam-dunk as former B.C. Premier Christy Clark, hard-hat firmly on her head, extolled the controversial dam to anyone that would listen as part of her grand scheme to cover the province with LNG plants in order to feed energy to the voracious Chinese market that is not looking so hungry these days.
Just after her ignominious defeat in the May election, Clark sent letters to NDP leader John Horgan and Green Party leader Andrew Weaver demanding they end their opposition to the colossal concrete structure that would have flooded 83 km of prime agricultural land in the far north and would have been the third dam on the already heavily dammed river. The former premier claimed the project had hit the "point of no return" and any further delay would cost taxpayers another $600 million.
But Horgan was having none of that and neither was Weaver.
"In it (the letter) you made unsupported claims about additional costs," Horgan said while Weaver said the project "poses massive economic risks" to the taxpayers and wasn't supported by independent analysis.organ while And this week the BC Utilities Commission (BCUC) issued a preliminary report that appeared to support both Horgan and Weaver.
The BCUC commissioners said they had identified "numerous areas of information gaps" including whether there was sufficient electrical demand for building such a giant project. And this is where the situation gets extremely interesting because the ugly "P" word comes into play – politics – because neither Horgan or Weaver are exactly on the same page when it comes to Site C.
Weaver and his tiny caucus of three MLAs are flatly against Site C ever being built, citing alternative energy sources such as solar and wind and stale demand. The Green leader says Site C is "environmentally, economically and socially reckless" while Horgan doesn't go that far, saying only the dam should be referred back to BCUC for an "independent review," which happened this week.
Horgan is obviously thinking of the hundreds of jobs, many of them high-paying union jobs, that Site C construction provides while Weaver is more focused on the environmental carnage caused by another dam on the Peace. But two former BC Liberal premiers are also part of this political stew.
In 2010, Gordon Campbell bypassed the normal BCUC review for dam projects, giving Site C the green light and Clark pushed ahead with the project as part of her LNG dream even though critics said Site C power wasn't needed now and her dream was a mirage.
So now the fate of Site C is back in the hands of the BCUC professionals where it belongs and who can give an honest assessment on whether it's needed. BC Hydro claims the dam is needed now because the province will experience energy shortfalls by 2031. That's more than three elections in the future – a real stretch – because no government plans beyond its next term and BC Hydro bureaucrats know it.
Obviously, politics is being played here.
So where does this leave the taxpayers? Holding the bag as usual. Some $1.8 billion has been spent on Site C already and no power has been produced. Cancelling the dam now would cost a further $1.1 billion, but far less than the cost of completing it. It's a gut-wrenching decision for any government, little alone a government that's a shaky coalition.
So, the saga of Site C continues and no one knows where it will end. But in the short term the Peace River has won a reprieve with the decision back in the hands of the commission that was supposed to review it in the first place. What more could a good river want on World Rivers Day?
– Gerry Warner is a retired journalist and a long-time advocate for free-flowing rivers.
---
Article Share
---