Home » Yet another serious hockey scandal this week
Posted: December 1, 2019
Yet another serious hockey scandal this week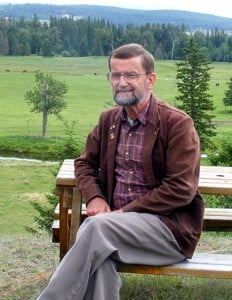 Perceptions, By Gerry Warner
Op-Ed Commentary
What is it with hockey these days?
First it was Don Cherry. Now it's Calgary Flames coach Bill Peters. At the risk of offending just about everybody, I'll try to explain what happened and regrettably provide more red meat for the trolls to feed on. It's a tough job but someone has to do it.
So, what's it all about? Let me give you the Coles Notes version. Until this week, Peters was the coach of the Flames. He was supposed to be behind the bench for a game this week but went missing in action and by the time you read this won't be the Calgary coach for something he doesn't deny doing a decade ago which may cost him his job.
What he did was cross a line that unequivocally shouldn't be crossed. Not today, nor 10 years ago when he used the "N" word in a racist tirade against a young black player he was coaching in junior hockey in the US.
The player, Akim Aliu, released a tweet this week in which he said Peters repeatedly used the slur in the dressing room. "I was too scared to speak up," Aliu said, observing the Code of Silence surrounding such incidents in hockey.
Since he released his tweet, former Carolina Hurricanes defenceman Michal Jordan alleged Peters kicked and punched him on the bench when he was coaching the team. "He kicked me pretty hard in the back during a game. Even the trainers and the other guys saw it." Two other NHL players have also alleged violent behaviour against them by Peters.
Peters has since released a statement on Aliu's allegations, but like Don Cherry, he didn't really apologize for his abusive behaviour. "I meant no disrespect in what I said and it was not directed at anyone in particular." Commentators have been quick to point out how ludicrous it is to say you "meant no disrespect" when using the "N" word" against a black player. Sort of like Prince Andrew's casual attempt to brush off allegations of having sex with a 17-year-old girl. People aren't inclined to believe either.
In fact, many are calling this a "watershed moment" for the NHL and hockey in general. Some say it's similar to the "Me Too" moment for abused women. The NHL, unlike the other major North American sports leagues, has been slow to deal with racism, sexism and homophobia in its ranks. Canada takes pride in being a tolerant and multi-cultural country. How does that square with the aberrant behaviour occurring in many rinks in the land. "Is it hockey that has the race problem? Or is it (Canadian) society that has the race problem," asks David Singh a reporter for SportsNet.
I've puzzled about this for a long time myself as I've become more disenchanted with the Canadian hockey culture. In the great 1972 Canada vs Russia Super Series precious few Canadians expressed any remorse with how we "won" the fabled series. The fact, of course, is we cheated by disabling Russia's star player (Valery Kharlamov) with a vicious Bobby Clarke ankle chop ordered by the Canadian coach on the eve of the final game leaving the Soviets to play without their star. Today most Canadian hockey fans aren't even aware of the disgusting incident and many of the ones who are aware of it justify the slash according to the win-by-any means mantra of NHL hockey.
And it's not just the NHL. The same attitude exists in the elite junior leagues and even at the minor hockey level where the players are children. Witness the oft-repeated spectacle of bad hockey parents charging out on the ice to attack the referee, coaches and even other parents. This has forced some teams to ban parents from attending the rinks where their children "play."
I got a taste of this myself years ago in Kimberley when I went to interview the coach in the dressing room after the game and was met with a torrent of  "F" words and other invective at the door as the coach berated has players for their performance in the game. I wouldn't have wanted my son to have been exposed to that vicious tirade from what's supposed to be a positive role model.
Most of us would agree that hockey is indeed the fastest game on ice and one of the best games anywhere. But hockey also has a culture and it's a very negative culture that's increasingly tainted with bad behaviour and bad actors that should have no place at any level in the game.
So, what are we going to do about it?
Gerry Warner is a retired journalist and a lapsed hockey fan.
---
Article Share
---