Home » Local excels at Para-cycling Track World Championships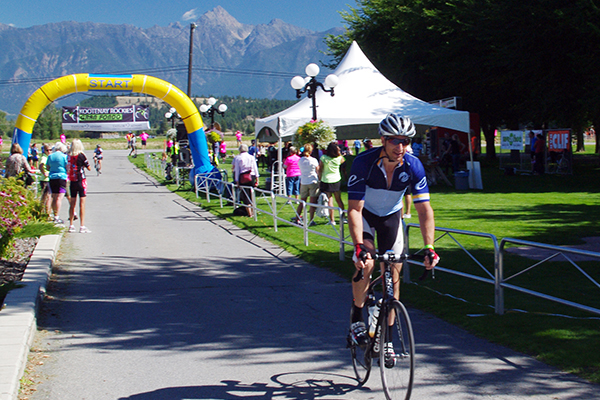 Posted: March 22, 2016
Local excels at Para-cycling Track World Championships
Cranbrook's Tristen Chernove shines in first Para-cycling Track World Championships
Canada closed out the 2016 Para-cycling Track World Championships on Sunday, in Montichiari, Italy, with a seventh place in the Men's C1-2-3 Scratch Race by Tristen Chernove of Cranbrook.
While Chernove was seventh overall in the multi-category race, he was second among his fellow C2 competitors.
"That was so much fun!" exclaimed Chernove. "Not my best result of the Worlds but definitely the best time of any of the races. An exciting race and active every minute. Tactically, I launched too early, but I learned a lot. I got schooled; I got beat by some of the most talented athletes in the world. I got a bit too excited when I was at the front and saw three laps to go. I didn't have enough in my legs to lead the group and still have fresh enough legs to close in the final sprint. But I'm going to take that lesson and improve on it."
Chernove, a NextGen Para athlete attending his first track world championships, had an exceptionally strong Worlds; winning gold medals and world champion rainbow jerseys in both the Individual Pursuit and 1000m Time Trial events. Canada also took a silver medal and a bronze medal at these championships, the final qualifying event for the track competition at the Rio Paralympics later this year.
Chernove, who works full time in the airline industry (he manages Canadian Rockies International Airport), discovered he suffered from CMT (Charcot Marie Tooth), a degenerative nervous system disorder, in 2009. "When I retired from racing in Paddlesports in 2009, I never imagined that I'd spend the following years training harder than ever, but now in cycling. The hereditary neuropathy that I have is degenerative, I'm adapting to my changing body all the time and enjoying hard training more than ever before. I absolutely love cycling, all aspects of the sport.
"My wonderful and gorgeous wife (Carrie) supports me in all that I do, which puts a lot of added parenting stress on her as I spend so much of my time training. There's no 'life balance' when you're reaching for the pinnacle of what you can do in sport. I'm driven to make my fabulous daughters [Bronwyn, eight, and Morgan, five] proud and to show them that it's always worth chasing your dreams, pushing yourself and stepping out of your comfort zone. I'm also very happy that I have the opportunity to raise awareness of the disease that I have (the most common hereditary neuropathy in the world yet most people haven't heard of it).
"In savouring this moment I think of the people around me who have also had to make huge compromises and sacrifices to allow me to train and compete; my colleagues who've been forced to do more work, my wife and kids that give up holidays and forgive missed family time while putting up with my added stress and single-mindedness and of course the coaches and support staff that create the environment to make it all possible. Oh man, do I ever love this life I'm living."
Arnaud Litou, the High Performance Manager for Para at Cycling Canada stated, "Cycling Canada was expecting to repeat with the silver medal from last year's Worlds, and our athletes ended up by achieving an outstanding Para-cycling Track World Championships with two gold, one silver and one bronze, plus personal bests in almost every event. Special thanks have to go to Mattamy Homes, the Canadian Paralympic Committee and Own the Podium for their continuous support."
This article was published on Cycling Canada on March 20.
Lead photo: Tristen Chernove crosses the finish line in the 2014 Kootenay Rockies Gran Fondo. e-KNOW file image
---
Article Share
---