Home » A hockey legend goes to the Great Rink in the Sky
Posted: August 13, 2018
A hockey legend goes to the Great Rink in the Sky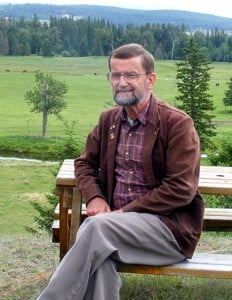 "Perceptions" by Gerry Warner
Op-Ed Commentary
Last week unarguably one of the greatest hockey players in history died and many Canadians were hardly aware of it, which is a sad comment on the state of hockey in Canada today.
And this player wasn't only great on the ice, but off it as well, but that doesn't seem to matter much anymore in the overpaid world of professional sport.
And who was this hockey great, you rightfully ask? Let me make it easy for you. He was the only player in NHL history to win the Hart, Art Ross and Lady Byng Trophies in the same season and he did it not once, but twice! Not ringing any bells? Well, he also won the NHL scoring title four times. That should do it, but if it doesn't when he retired in 1980 only Gordie Howe and Phil Esposito had scored more points.
He also invented the curved stick, which completely revolutionized hockey and was one of the first to wear a helmet. So, if you're a hockey fan and haven't figured out by now who it is, you should be embarrassed and ashamed.
Stanislaus Gvoth, or "Stan Mikita" as he came to be known, was born in Sokice, Slovak Republic in 1940, came to St. Catharines, Ontario in 1948 to live with his Aunt and Uncle and early on the non-English foreigner endured the jeers and taunts of being called a "DP" (deported person) by his prejudiced Canadian school mates. But more importantly, he leaned to speak English and learned to play hockey on the frozen ponds of Ontario and the jeering stopped soon after that.
In 1959, the plucky, 5 ft. 9 in. native Slav was called up to the NHL by the Chicago Black Hawks and in his first game found himself facing off against the iconic Montreal Canadiens great, Jean Beliveau.
Mikita was only 19. "He had to outweigh me by 60 pounds. The faceoff was in Montreal's end. I looked up at him from the circle and wound up staring at his belly button. That's how tall he was. My knees were shaking. My head was spinning. Somehow I got my stick down and managed to get the puck to our point man."
Two seasons later, Mikita won the NHL scoring title and a legend was born.
Along with fellow NHL great Bobby Hull, Mikita led the previously moribund Black Hawks to its first Stanley Cup in 1961, after languishing 23 years in or near the NHL cellar. Mikita notched six goals and five assists in the series leading his exuberant team. But it was only the beginning of a fabulous career that saw Mikita win more trophy hardware in the 1970s than any other player and he was not surpassed until future stars Bobby Orr and Wayne Gretzky dominated the league and Mikita retired because of injuries.
But beside his talent and work ethic, Mikita had something else that made him great and that was character, something that not every "great" has.
Early in his career, Mikita was a scrapper, with his elbows high and fists flying despite his small stature and was one of the most penalized players in the league. Then suddenly it all changed.
One night he came home after a particularly rough game where he'd been penalized more than once. His daughter Meg asked him: "Daddy, how come on TV you always sit alone while the other men are playing hockey?" Sheepishly, he told his daughter that he'd been in the penalty box for fighting. Later he reflected, "I realized that it was taking more out of me than the guys I was trying to abuse. I realized, too, that I had a responsibility as I got older — my family."
The rest as they say was history. Mikita went on to win the Lady Byng Trophy for gentlemanly play twice, once being penalized only 12 minutes in an entire season.
In other words, Mikita learned that clean play didn't prevent him from being a superstar. It made him an even greater superstar, a realization not very common in hockey today.
After he retired, Mikita became known for his extensive philanthropic work with the hearing impaired and children's charitable activities and became a good will ambassador for the Hawks organization, which erected a bronze statue of him in front of the United Centre right beside Bobby Hull and Michael Jordan.
He was the "soul of the Chicago Black Hawks," said team president Rocky Wirtz. "Stan made everyone he touched a better person."
Not too bad for a small town Canadian and former immigrant "DP."
– Gerry Warner is a retired journalist and a life-long fan of the kind of hockey Mikita played in his latter career.
---
Article Share
---