Home » Balancing road safety costs a difficult issue for government
Posted: February 2, 2019
Balancing road safety costs a difficult issue for government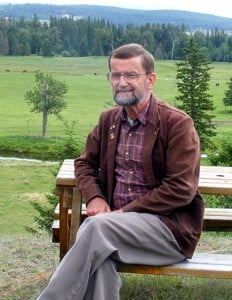 "Perceptions," by Gerry Warner
Op-Ed Commentary
How many of you, when you get in your vehicle, think to yourself this may be the last day of my life?
Not many I bet.
I certainly wasn't thinking that way when my wife and I set out for Creston on a slushy afternoon Dec. 30, 2018. Less than 30 minutes later we were rolling down a bank towards Moyie Lake with a train coming down the tracks. It was a hellish experience and one we'll never forget.
Thinking back about it now, I still find it hard to believe it really happened. Yes, there was a lot of slush on the road, but other than that the road was fine. I slowed down to let other vehicles pass to reduce the dirty slush landing on my windshield and I was probably doing somewhere around 85km/h on a straight section of road when suddenly I was in La La Land.
I was steering straight ahead but my vehicle was going sideways as I started doing a 360-degree circle on the road. Another 360 later, I was hanging upside down from my seat belt staring at the train tracks just 20 feet away.
Black ice spares no one. My wife is still having nightmares. Today, tomorrow or next week, it could happen to you. So, take heed and I hope what follows helps you do that.
Black ice is everywhere on our roads and you don't always see it. It lurks often in the shade yet my accident occurred on a sunny day and the black ice was hiding under the slush. I didn't see it. I hit it and in a nano-second I was hydroplaning over the bank.
Could this near-tragedy have been averted? Not likely; I had winter tires on all four wheels and two sandbags over the back wheels. My tires were three years old but I don't think that was a critical factor. Any tire would have slid in the conditions that day. Studs might have helped, but no one can know for sure. But I do know my next set of winter tires will be studded.
So, who's to blame other than me even though I honestly believe I bear little blame for what happened? But what about the company maintaining the roads?
Off the top, I'd like to say I'm not blaming Mainroad. Black ice is a force of nature and no one can overcome Mother Nature no matter how hard they try. Having said that, I'd point out there was a lot of slush on the road that day, but Mainroad VP of operations Noel Mankey says "a plow truck was active in the area the morning of Dec. 30." But was the plow truck active enough?
Asked how Mainroad deals with black ice, Mankey says Mainroad is very proactive. "Prior to storms, highways are treated with chemicals" on a 24/7 basis. "Trying to scrape off black ice is not possible. Instead, we treat the area with the appropriate material." Despite using sand and chemicals, black ice is still a formidable foe, Mankey says. "Black ice can form after a sudden rain shower while the surface temperatures are still freezing or when snow and slush on the highway starts to melt with warming air temperatures diluting the chemical that is still on the frozen road surface."
Mankey says he's often heard the claim that winter road conditions suddenly improve when motorists cross the border at Kingsgate and enter Idaho. "I've heard this said before as well. Though often when I check the cameras in Idaho conditions are no better and sometimes worse."
This brings up the belief that many B.C. motorists harbour, namely that winter road driving conditions took a turn for the worse when road maintenance was privatized by the former Social Credit government in 1988.
Kootenay East MLA Tom Shypitka says privatization of road maintenance in B.C. is a difficult issue. "The issue surrounding highway maintenance is a very sensitive and heart-wrenching conversation. How do we put a price on safety? What is reasonable maintenance? How do we put a price on safety . . . Use caution and drive according to the conditions."
How indeed is a price put on safety? Most of the debate about road privatization has been over whether it saves governments money, not about safety.
Ontario saved millions by privatization of road services but put lives in jeopardy with poor oversight of the program, said Ontario Auditor General Bonnie Lysyk in a damning 2015 report. "In the past, highways were cleared much faster," she said. "Preliminary results show an increase in the number of deaths on Ontario highways in 2013 where snow, slush or ice was a factor."
That would appear to be common sense but how often is "common sense" a factor in government policy? Most governments worry about saving cents, not safety.
Idaho winter road maintenance is done by the state which spends $25 million annually clearing state highways in the winter with a 500 + strong fleet. However, it's highly unlikely that government control of highway maintenance will return to B.C. anytime soon as private contractors have been performing the service through a succession of governments for 31 years.
According to the latest ICBC statistics, the Kootenays have some of the deadliest roads in the province.
Highway1 between Golden to Revelstoke had 38 fatalities from 2004 to 2013 making it the deadliest road in the province. The Coquihalla by comparison had 32 deaths in the same period. Other deadly Kootenay roads include Highway 3 Cranbrook to Creston with seven deaths, Salmo to Creston six deaths and Sparwood to Elkford five. And, of course, there have been more driving deaths since these statistics were compiled.
Surely the lesson is clear. Driving is inherently dangerous – especially in winter – and you're rolling the dice when you do it. I have to admit these thoughts weren't foremost in my mind when I almost killed my wife and I Dec. 30. But they will be next time.
Lead image: an ICBC graphic showing where all the road fatalities in the province have occurred.
– Gerry Warner is a retired journalist who is driving more carefully these days.
---
Article Share
---